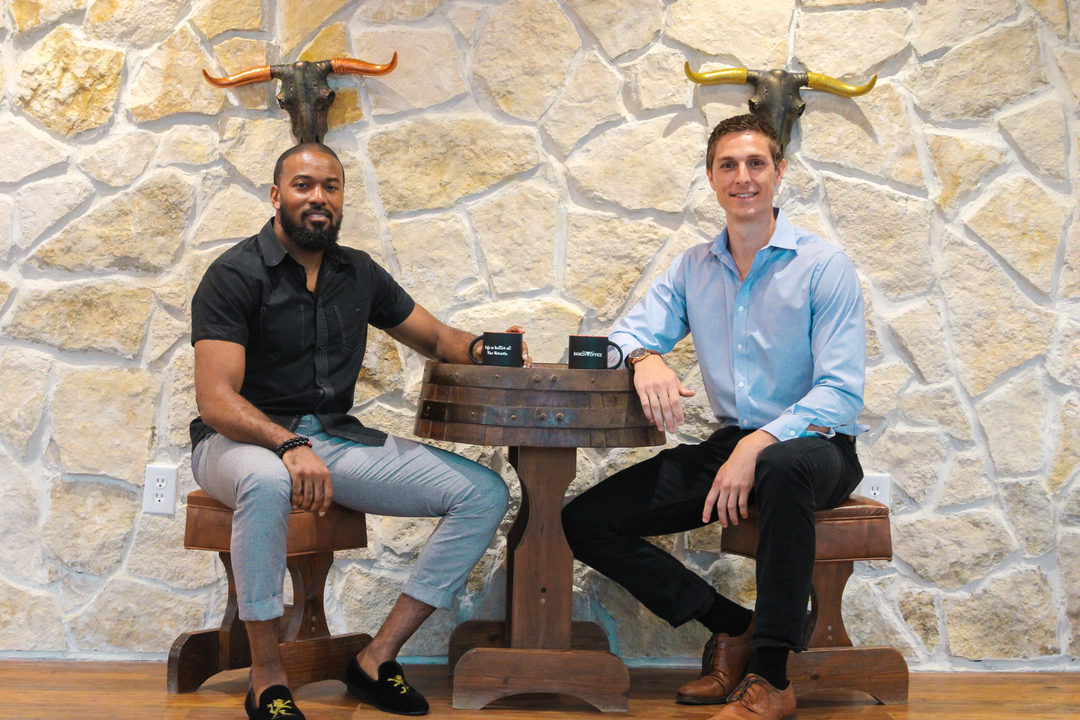 Michael Haapaniemi, Founder
A native of the Memorial / Spring Branch area, Michael attended St. Francis Episcopal and then The Kinkaid School. After graduating with an engineering degree from Northwestern University, Michael spent several years in Chicago at a management consulting firm, and later worked in mobile app development. Feeling an urge to return home to Texas, Michael found his opportunity when he decided to develop and open the Ranch Office.
Favorite THing about the Ranch
"Ted Talk Taco Tuesdays, hands down. I'm big on personal development, and coming together as a community over tacos is the highlight of the week."
Favorite "Taco Tuesday" Ted Talk
Start with Why by Simon Sinek
Jay Coleman, Community Manager
Born in New York City / Became a man in Houston, Texas... Jay is a jack of all trades and prides himself on "mastering the art of communication". After graduating high school, Jay dabbled in many endeavors ranging from college basketball to moving to Los Angeles as an actor/model for nationally aired programs.
Jay would later discover his passion for business & people, turning him into a serial entrepreneur. Of the many businesses he currently operates, he is most proud of his youth basketball organization. His goal is to continue opening doors for youth athletes to have the opportunity to do what they love while receiving a college education.
Jay is happily married to (Miko) with one child (Christopher)! Jay meeting Michael was the beginning of something magical. Their strengths in the business world are unmatched. Aiming to create a standard of excellence, the sky's the limit in terms of what "The Ranch Office" can accomplish.
Favorite THing about the Ranch
"The fact that it doesn't feel like a typical office. You can't put a price on smiling every time you walk through the doors."
Favorite "Taco Tuesday" Ted Talk
Extreme Ownership by Jocko Willink
The Ranch is a Texas-inspired space for coworking in Houston. It is designed to inspire and specifically built to grow your small business. Whether you are a one-man operation or a 10 person start-up, The Ranch has plenty of options to help you continue to grow. Our offices in Houston are strategically located on I-10 & Blalock, halfway between downtown and the Energy Corridor.
Why Should You Be Coworking in Houston?
Having a shared office space in Houston has many benefits compared to a dedicated space. To start, coworking in Houston can be far more cost effective for small businesses and start-ups - pay less, and pay only for the size that you need. Offices in Houston also generally require long-term leases. Spaces for coworking in Houston are shorter term, giving you massive amounts of flexibility to allow for your operation to be successful.
In a recent report by Jones Lang Lasalle Inc, a professional services and investment management company specializing in real estate, flexible workspace has been growing at an average annual rate of 23 percent since 2010 and is the primary growth driver in the U.S. office market. The report also states that by 2030, flexible space and shared amenity areas will account for 30 percent of office space.
Why JOIN The Ranch?
The Ranch offers something that other spaces for coworking in Houston don't - a Texan space that has both the comforts of home and a fast-paced forward thinking environment. You'll have access to amenities that both fuel and inspire action. With our inspiring space, we aim to support members to a thriving business.
Amenities
Inspiration comes not only from a robust space, but from an environment that provides everything that you may need to succeed. At The Ranch, not only will you get a shared office space in Houston, you'll have access to:
Conference Rooms: Have an upcoming client meeting or need to have a strategy session with your team? The Ranch offers meeting rooms with the same Texas-inspired feel to help you close that deal or come up with great ideas for your business.

Free Parking: Compared to some offices in Houston, you won't need to waste valuable time and money paying or looking for parking at The Ranch. We offer plenty of space for parking for both you and your clients.

Ranch Patio: The Ranch Patio is another part of our inspiring space. The Ranch offers an open rooftop deck that is perfect for private events, eating lunch, or simply inspiring new and fresh ideas.

Fiber Wi-Fi: Projects can get bogged down due to slow internet access. With state-of-the-art fiber Wi-Fi, you'll have blazing fast internet access that can propel your projects as fast as you can churn them out. Hard lines are also available for private offices.

Brain Fuel: If you need that cup of joe to help you push out those proposals for your client, we have that available! Whether you need a morning cup to get you going or the midday pick-me-up, The Ranch has your brain fuel covered.

Local Beer: Want to celebrate closing that big deal or completing that major milestone? Happy hour's on us. Maybe you need to host a private event to showcase your work to clients. The Ranch offers local beers on tap.

Ranch Staff: You may be a one-man army working to change the world, but what if you had some help? Our courteous and professional staff at The Ranch will make sure you focus on the more important things. From sending mail to the right place and helping keep the office space tidy, you'll have more time to tackle the world's challenges.

Print/ Copy: Printed documents are vital to your presentations and work flow. The Ranch offers printing and copy services so you can nail your next presentation to potential investors.

Phone Rooms: Sometimes you need a bit of privacy to make those important phone calls to clients. The Ranch offers phone rooms to make peace and quiet for your conference calls easy.

Virtual Business Address: If you are looking to get a business address in Houston, this is the way to go! By becoming a member, you can list your business with an address, giving you mail options and lending legitimacy to your operations.
The Ranch is the premier space for coworking in Houston. Combined with a Texan-inspired space, a taste of home, and your drive and ingenuity, The Ranch is where we turn passion into action. Our shared office space in Houston is ready to take your business to the next level. Ready to make The Ranch your base for success? Drop by for a free tour.